SPOILER WARNING: This page contains spoilers for the Steins;Gate and Steins;Gate 0. Do not read it unless you have played both games or seen both anime or want to be spoiled.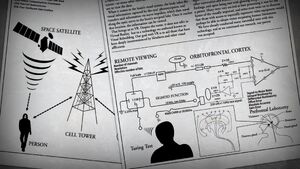 Visual Rebuilding is a technology developed at the world-renowned Department of Neuroscience at Viktor Chondria University in the United States in the 1990s. Its stated purpose is to restore the ability of blind people to see. It achieves this goal by beaming electromagnetic waves into the brain.
Visual Rebuilding technology is the original basis for Project Noah prior to the discovery of the Ir2 equation by Takumi Nishijou, allowing for delusions to be projected into people's brains as a form of mind control.
It is also the basis for Kurisu Makise's Time Leap Machine in Steins;Gate, as she was a student at Viktor Chondria University and her thesis was based on it. Specifically, Visual Rebuilding technology is how the Time Leap Machine reads memory data from the brain using electromagnetic waves at one point in time and then beams the memory data back into the brain using electromagnetic waves at a different point in time.
Another piece of technology partly based on Visual Rebuilding is the Amadeus system in Steins;Gate 0, which used Visual Rebuilding technology to scan Kurisu Makise's brain and get her memories. Both the Time Leap Machine and Amadeus system also rely on the main insight Kurisu made in her thesis, about how memories are stored in the hippocampus. The Amadeus system stores human memories as digital data, and is able to function as an AI. It was developed by Professor Alexis Leskinen and his assistant Maho Hiyajo, with Kurisu Makise functioning as the guinea pig for the experiment.
Visual Rebuilding is not as powerful a technology or technique as real-booting, a gigalomaniac ability which is described by the Ir2 equation. While real-booting can actually physically manifest delusions in reality, the most that Visual Rebuilding can do by itself to alter reality is to alter the data in people's sensory input from their 5 senses. It does not actually change anything in reality unless combined with another technology that has this ability.
This is demonstrated by the fact that the original Noah prototype device N.O.Z.O.M.I. made, prior to Noah II, before N.O.Z.O.M.I. found out about the Ir2 equation, was unable to real-boot anything or physically alter reality. All the original Noah prototype was capable of doing was giving people sensory delusions (hallucinations), making them see/hear/etc. things differently from how things really are.
However, Visual Rebuilding is a necessary first step in making the Noah II artificial gigalomaniac device that is the focus of ChäoS;HEAd, since while the Ir2 equation can turn delusions into reality, Visual Rebuilding is needed for projecting delusions into people's brains. Without Visual Rebuilding, there would not be any shared delusions for the Ir2 equation to real-boot out of the Dirac Sea, and it would be impossible to build an artificial gigalomaniac device. This would mean only natural-born gigalomaniacs would have the power to give other people delusions, without this technology.